Women are making a mark in every industry and real estate is no exception. What was once considered a male-dominated industry is now seeing a growing number of female real estate agents taking on the charge and advancing to leadership roles.
In 1971, Sadie Moranis was the first woman to have founded a real estate company. In 1981, the Toronto Real Estate Board (TRREB) appointed Moranis as their first female president.
Recently, an eight-story, 200-unit condo project named 'Reina' in Etobicoke is known to have been spearheaded by Canada's first all-female developer team which is an impactful way to showcase the energy and talent women bring to the real estate development industry.
Advantages for women in real estate
A career in real estate offers women the opportunity for:
Independence
Real estate agents are self-employed, which means they can call the shots. It allows them to be in charge of decision-making, their schedule, and running a business. Real estate professionals don't find themselves boxed into the typical 9-5 workday confines. Instead, they can manage their schedule based on what best suits them and their clients.
Self-governed growth
As a real estate professional, growth is often a function of the time invested in finding, building, and leveraging opportunities and the effort the person is willing to put in. As real estate professionals do their best to provide compliant, high-quality service to clients and customers, they find themselves building opportunities for the future as the real estate needs of people they help continue to evolve.
Making an impact on the lives of others
Homeownership is a dream for most individuals and families. It is one of the greatest financial and emotional decisions that most families make collectively. Real estate professionals can be a part of their journey (whether helping them to buy or sell). With a career in real estate, professionals can help people achieve their dream as they achieve theirs.
Whether you're an aspiring real estate professional or already have a successful career in the industry, it's helpful to have people inspire your continued growth. Take a look at some of these successful women in real estate for some career motivation.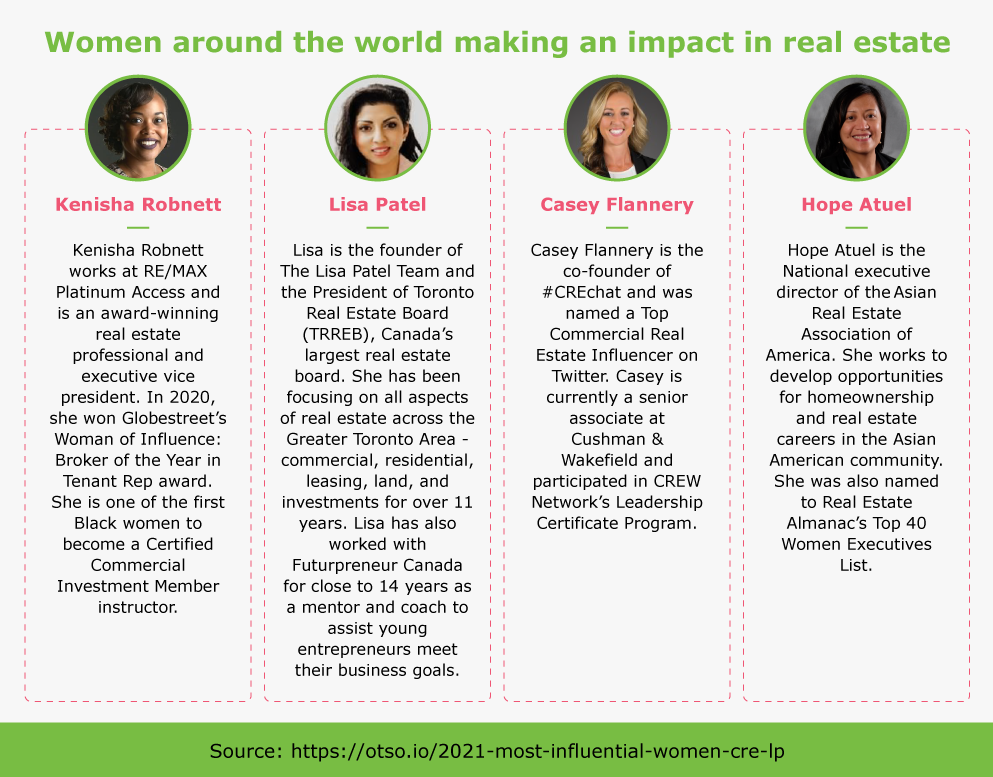 Women in real estate have been shaking up the industry since its inception. Even though women are taking over the real estate industry, not just as real estate professionals but also as homeowners, there's much work to be done to bridge the gender gap in the industry. This needs to start with women aspiring to become real estate professionals, making sure they're up to speed with current trends, and connecting with other female real estate professionals for inspiration on breaking business barriers and setting an example for others.